Meet the 2022 Winners of the Vice Chancellor's Alumni Achievement Awards
The Vice Chancellor's Alumni Achievement Awards (VC AAA) recognise outstanding alumni for their exemplary accomplishments across sectors, including contributions made and services rendered in communities locally and around the world, with a commitment that reflects the LUMS spirit.
From scoring big in academia and leading global organisations, to spearheading social change in Pakistan, this year's VC AAA winners continue to make LUMS proud on an international scale. 
Learn about the impactful work they are doing and explore their inspiring journeys.
 
BSc Class of 2017 Renews Support for LUMS
Established in 2021, the 'BSc Class of 2017 Scholarship Fund' has been renewed with a generous donation that will sponsor the education of one NOP scholar for the entire duration of his/her degree. 
SDSB Luminites Association Welcomes Newly Elected Board of Directors and Council Members
Members of the LUMS Suleman Dawood School of Business (SDSB) Luminites Association came together on September 14, 2022 at their alma mater. The evening was an opportunity to reflect and celebrate the work done by the outgoing president and board members in addition to welcoming the newly elected board for 2022-2024. 
Karachi Alumni Celebrate Annual Reunion
It was celebration and nostalgia for the Karachi alumni community on Saturday, June 11, 2022, when they came together at the Movenpick Hotel, Karachi for their annual Karachi Alumni Reunion.
After quite a while away from get-togethers, the alumni were thrilled to have an opportunity to meet again in person and reconnect. The reunion was also a great chance for the alumni to engage and interact with leadership from LUMS as Mr. Abdul Razak Dawood, Pro Chancellor; Dr. Arshad Ahmad, Vice Chancellor and Director of Advancement, Ms. Nuzhat Kamran, were all in attendance at the event. 
LUMS Alum Represents Pakistan at the Global Peace Summit 2022
Sachan (BSc Accounting & Finance 2021) represented Pakistan at the Global Peace Summit 2022. The summit gathers young people from more than 35 countries in Baku to speak about global problems, post-war peace opportunities, personal peace initiatives, and took part in panel discussions. He was the only fully funded delegate from Pakistan.
LUMS Welcomes Alumni at Grand Homecoming!
It was an evening of connection and celebration on Saturday, June 25, 2022 as the University welcomed back its alumni from across Pakistan and the globe to participate in the annual Alumni Homecoming at LUMS.
As the flagship reunion of the year, Homecoming is always the perfect opportunity for alumni to reconnect with old friends, favourite faculty and classmates; and with this being the first reunion on campus after such a long break away from in-person get-togethers, it was an even grander celebration. 
Presenting the Winners of the Vice Chancellor's Alumni Achievement Awards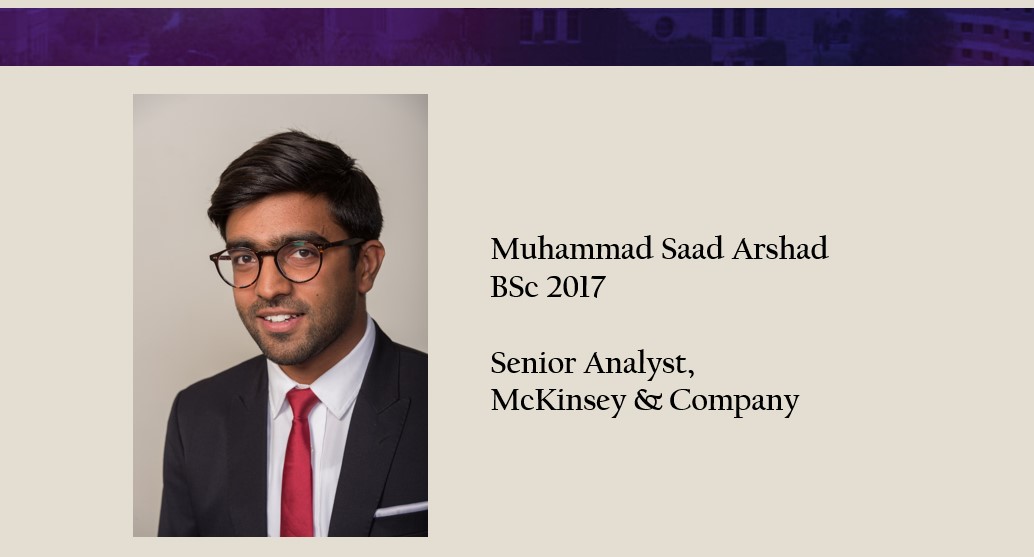 Pakistani EdTech, Co-founded by LUMS Alumna, Announces Seed Round Funding Led by House of Habib
Pakistani EdTech startup, Out-Class, launched in 2021 as the "Netflix for Students", has announced the completion of its Seed Round funding. Founded by a LUMS alumna, Aiman Bashir (MBA 2012), along with two Harvard alumni, Out-Class aims to become an equaliser for education, already serving over 10,000 students through their self-paced, bite-sized courses. 
LUMS Alum Selected for the Forbes 30 under 30 Asia List
Muhammad Saad (BS Computer Science, 2015), a graduate of the Syed Babar Ali School of Science and Engineering, has been selected for the Forbes 30 under 30 Asia List. 
Islamabad Alumni Community Reunites
In what was a true reunion, in every sense of the word, the Islamabad and KPK alumni community came together on Sunday, May 15, 2022 at The Monal Resturant, Islamabad for their annual Islamabad and KPK Alumni Reunion.  After more than a while away from physical meet-ups, the alumni were buzzing with excitement to finally have an opportunity to reconnect. Not only was the reunion a chance for the community to get together again in-person, but also to engage and interact with leadership from their alma mater as Mr. Shahid Hussain, Rector, Dr.