SDSB Luminites Association Welcomes Newly Elected Board of Directors and Council Members
Members of the LUMS Suleman Dawood School of Business (SDSB) Luminites Association came together on September 14, 2022 at their alma mater. The evening was an opportunity to reflect and celebrate the work done by the outgoing president and board members in addition to welcoming the newly elected board for 2022-2024. 
Also in attendance were members of the University's leadership, including Pro Chancellor, Mr. Abdul Razak Dawood; Rector, Mr. Shahid Hussain; Vice Chancellor, Dr. Arshad Ahmad; Honorary Dean, Suleman Dawood School of Business, Dr. Alnoor Bhimani, and Director, Office of Advancement, Ms. Nuzhat Kamran (MBA 1988). 
The event commenced with a warm welcome note by Ms. Kamran, who appreciated the SDSB Luminites Association's strong legacy that it has developed over the past 35 years. "The idea behind the Association was to have a body of alumni that continue to nurture their connection with their university and be active participants in its advancement. It has been here for so many years, led by different people and a lot of work has been done," she said. 
The newly elected President, Mr. Anwar Kabir (MBA 2007), took to the stage to share his vision for the Association and the different areas they will be working on. "Each alum has their own story about how their life changed after their experience at LUMS. We are really grateful, and we would really like to create an ecosystem where we are all able to pay it forward," he said. 
Mr. Ahsan Sheikh (MBA 1998), Vice President of the SDSB Luminites Association, shared that throughout the years more and more people have shown interest in contributing to the Association's activities with 29 people contesting the elections this year. Talking about keeping connected with their alma mater he said, "I really feel that with open-heartedness at both ends, where we bring in the ideas and strategies, and LUMS provides support in execution, we can do wonders."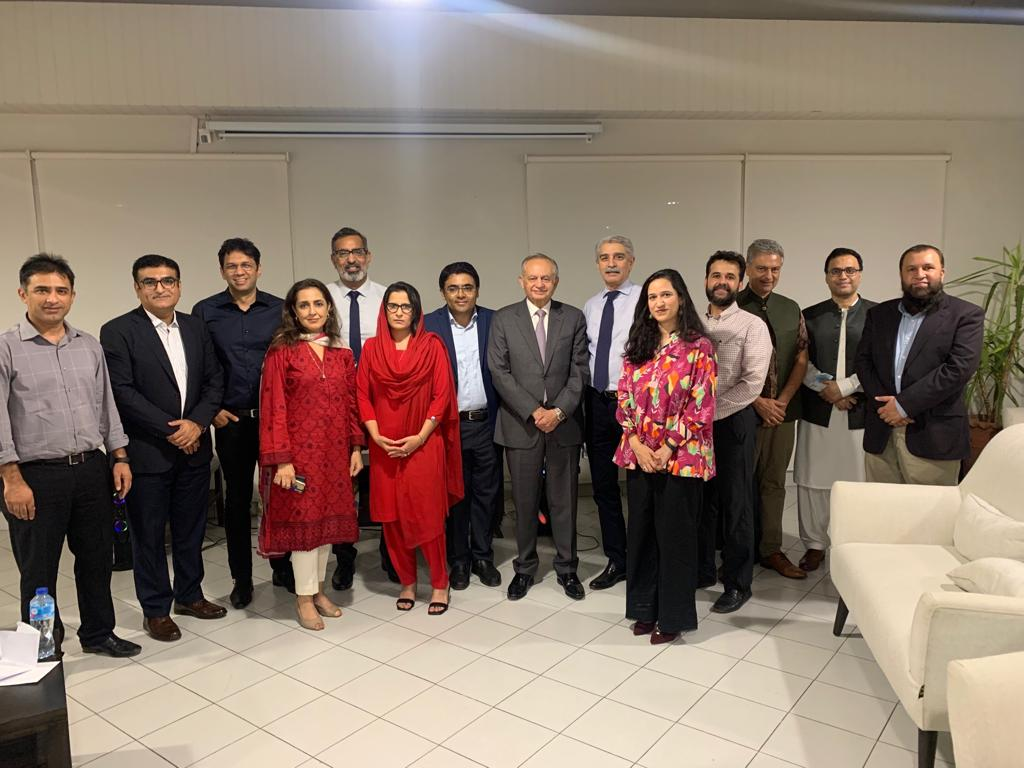 Appreciating the continuous connection that the SDSB alumni have with their alma mater, Dr. Alnoor Bhimani noted that the insight alums provide to LUMS is invaluable to the University's growth and development. "It's not just a matter of giving money, it's actually giving us that knowledge that we need to provide our students to make them future ready that is very unique to LUMS. And I thank you for that," he said.  
During his remarks, Dr. Ahmad emphasised innovation and entrepreneurship efforts at LUMS. He shared, "We've chosen six different centres at the University that are going to be trying to address the challenges Pakistan faces in energy, in water, entrepreneurship, gender inequity, and in pedagogy. But equally important to us is talking to industry and corporates, and this is where the alumni play a critical role." 
Mr. Shahid Hussain and Mr. Abdul Razak Dawood also addressed the audience and reiterated that a strong connection with the University's alumni body is the cornerstone of LUMS' evolution throughout the years, and that their continued support and contributions will be paramount in enhancing its reputation as a leading University in the region. 
Outgoing President of the SDSB Luminites Association, Mr. Saad Munawar Khan (MBA 2006), in his closing remarks thanked the LUMS leadership for always keeping the line of discussion open; providing a sense of collective ownership that helped take the board's activities forward. He also thanked the outgoing board for their contributions during the two-year tenure. 
The evening ended with a dinner and group photo and provided SDSB alumni the opportunity to reconnect with each other.